What can I Do to Bring My Lawn Back To Life ?
Intensively used lawns are exposed to stress from traffic injury. Walking playing and mowing are forms of traffic that compacts the soil and puts stress on your lawn. If a lawn is continually exposed to high traffic, it can be seriously damaged. Many people think their lawn will never be the same again, but the answer is simple Aeration!
What is Aeration ?
Aeration removes small cores of soil; from your lawn to allow air, moisture, and fertilizer to get down to the root zone of your lawn where the real problem lies.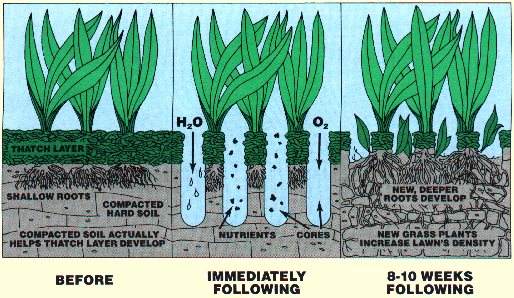 Benefits Of Aeration
Helps to control thatch
Increase drying of wet areas
Relieves compaction from traffic areas
Helps create growth pockets for the new roots
Improves soil composition
Improves response to fertilization & lime
Why is Aeration Neccessary ?
The effects of mother nature, too much water, or too little water combined with a constant use of your yard can severely damage or kill your lawn. Aeration gives your lawn new life and allows the soil to produce the required nutrients for a healthier lawn. When combined with over seeding, new seed can be added to the soil to replace the grass that may have already died off.